Damaged hair and tips? Dull and weakened strands? If this is a description of your hair as well, it is time to try Garnier Fructis Goodbye Damage hair oil. Additionally, the cosmetics can also be used if you often dye or style it with hot air.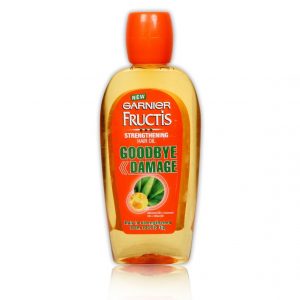 Check out how Garnier Fructis Goodbye Damage hair oil works
Garnier Fructis Goodbye Damage regenerates damaged hair and nourishes the tips. Provides wisps with softness and shine. Moreover, the cosmetic smooths hair, tames unruly strands and helps in creating fancy hairstyles. If your hair is very often exposed to high temperatures or dyes, this product is also for you.
Garnier Fructis Goodbye Damage facilitates brushing, rebuilds damaged strands and makes them look healthier and prettier.
Do you know how to use Garnier Fructis Goodbye Damage hair oil?
The bottle of Garnier Fructis Goodbye Damage is equipped with a convenient applicator thanks to which you are able to dose the right amount of product. But remember: the less cosmetic you use, the better for your hair. Be careful because too much oil can lead to greasy hair and scalp. How to properly use the Garnier Fructis Goodbye Damage oil? Apply one or two drops from mid-length hair downwards and rub the product thoroughly into the hair ends. After about an hour, wash it off with a shampoo.
What does Garnier Fructis Goodbye Damage hair oil contain?
Apart form the silicones contained in the composition, Garenier Fructis Goodbye Damage also includes amla oil. Unfortunately, this substance is in last place of the list. Its main task is to nourish and regenerate damaged strands while silicones protect hair from harmful factors from the external environment.
Summary: If you have damaged hair, go ahead and use Garnier Fructis Goodbye Damage hair oil. Do you colour-treat and style your strands with tools generating heat? This cosmetic will also be useful to you. If you want to have strong, shiny and well-groomed hair, start the treatment today.
 Pros:
facilitates styling
protects against high temperatures
easy application – mist formula
provides shine and smooths wisps
 Cons:
contains only trace amounts of amla oil
the cosmetic consists of many silicones
can cause oily scalp and hair
does not improve the condition of hair
small capacity
not everyone can be fond of its fruity scent