We encounter beauty challenges every single day, hair-care challenges in particular. We often make hair-care mistakes not even realizing that – we unconsciously make our own hairdos unhealthy and bad-looking. Which mistakes to avoid then? See our roundup below and learn how to keep the hair in a perfect condition!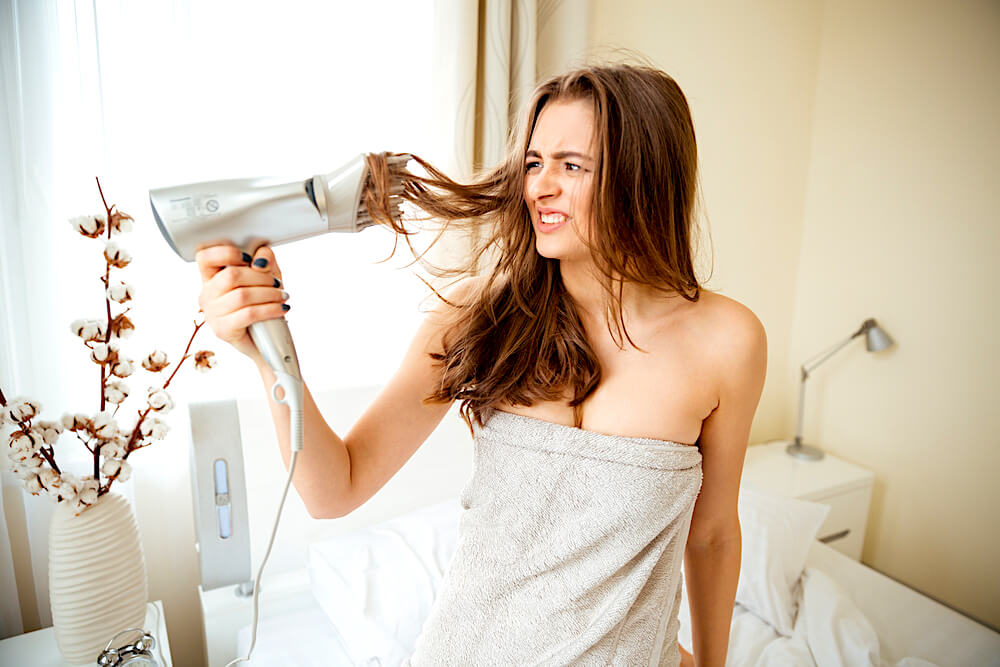 Many people think that hair care comes down to shampooing and conditioning the hair from time time (when we happen to remember that). Thousands of women "care" for their hair this way. Obviously, this doesn't make their hair healthier, stronger or prettier. It's actually the other way round – their tresses shed, split and break!
You are about to see the most popular hair-care mistakes we make every single day. Maybe not each one of them but if we take a closer look at the daily choices and actions, we will all find things that need improvement.
TOP 5 Hair-Care Mistakes
1. Overuse of a blow-dryer + hot air blast.
Air-drying is way better for hair – it gives water away at its own pace so the risk of dehydration is minimized. On the other hand, when we treat it with hot airflow, hair is likely to end up dry, dull, coarse and even burnt! If you must use a dryer because you're pressed for time, always apply a heat protectant (a spray, serum or hair oil).
2. Not using conditioners, masks and oil treatments on a regular basis.
Hair needs nutrients and substances that repair and revive the strands quickly. Ideally, we should reach out for a conditioner with every hair wash and a mask at least once a week. We can also use hair oils from time to time to shield the hair against loss of nutrients and necessary hydration. Not nourishing the hair is a huge mistake that may lead to hair breakage, splitting and thinning.
3. Sleeping with loose hair, particularly if it's long.
Long-haired beauties are more likely to make hair-care mistakes. Sleeping with the hair down is one of the top ones – while we sleep, we move the head so the hair brushes against the pillow, which translates to tangles and damage. This kind of mechanical damage is hard to fix so it's best to put the hair into a messy bun or braid before sleep.
4. Overload of products made up of harmful ingredients.
Somebody might say that hair is dead so it doesn't matter which products we apply. This is a huge mistake because the condition of hair depends on the state of hair follicles – this means that scalp care matters a lot. The excess of silicones builds up and blocks the outlets of hair follicles. Alcohols dry out and irritate the skin. Detergents, parabens and other aggressive substances do the same. We must pay attention to the ingredients: the more natural, the better.
5. Wrong brushing technique and accessories.
The choice of a brush or comb really matters. Picking wrong accessories is actually the most common mistake. We must match them to our hair type to avoid tugging, pulling and breaking the strands. A wide-tooth natural bristle comb works best to comb out wet (the most fragile) hair. If your hair is curly, brush it when it's wet, ideally using your fingers. Summing up, there are lots of rules we should follow if we want to keep the hair healthy and strong.